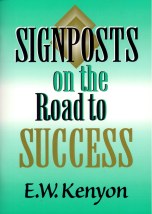 Signposts on the Road to Success - eBook
­
This inspiring little book will stir and challenge you. It is a collection of short talks on the secret of success... the dynamic truths contained in this little book have changed countless lives. This book should be given to every high school and college student to challenge them. Many executives of big national companies see that each salesman and company officer has a copy of this stirring little book. When you know that Christ is your Lord and Saviour, you will know that God is in you, that His ability is your ability, you will know that you can win. God will be the strength of your life.
Digital Versions for eBook Reader Software
This is an eBook. The format you need depends on your eBook Reader Software. eBooks can be read on your computer, tablet or smartphone. All you need is eBook Reader Software which is available in the app stores of most devices. To find eBook Reader Software for your Mac or PC and learn more about the different software available visit the following:

What is an epub file?
If you would like to download a digital copy of this book, click on one of the following links. One link is for the eBook in the mobi file format and the other link is for the eBook in the epub file format.
To purchase the digital version of this book, click on the link for the software version that will work with your Reader. A window will open with a description of the book, the price and a button that says 'I want this!' If you would like to continue with your purchase, click this button. Another window will open asking for your email address, name and payment information. Once you have entered this information, click 'Pay' at the bottom of the window. After you click 'Pay' your download will start.
Purchase Signposts on the Road to Success - ebook epub file $6.00
Purchase Signposts on the Road to Success - ebook mobi file $6.00