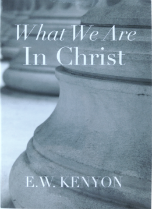 What We Are In Christ - eBook
­
This little book unveils a truth the Church has been sadly lacking in bringing forth. What our Father has done for us in Christ has profound implications for the way we live our Christian life. This message is, in many ways, the heart of the revelation that God gave to E.W. Kenyon. It is simple and somewhat repetitive, but can have life-changing power in the life of a believer who takes the time to absorb these Realities. These teachings call us to examine the Scriptures anew and reject many of the popular ideas that have held the sons of God in bondage. Jesus said we would know the Truth and the Truth would set us free.
Digital Versions for eBook Reader Software
This is an eBook. The format you need depends on your eBook Reader Software. eBooks can be read on your computer, tablet or smartphone. All you need is eBook Reader Software which is available in the app stores of most devices. To find eBook Reader Software for your Mac or PC and learn more about the different software available visit the following:

What is an epub file?
If you would like to download a digital copy of this book, click on one of the following links. One link is for the eBook in the mobi file format and the other link is for the eBook in the epub file format.
To purchase the digital version of this book, click on the link for the software version that will work with your Reader. A window will open with a description of the book, the price and a button that says 'I want this!' If you would like to continue with your purchase, click this button. Another window will open asking for your email address, name and payment information. Once you have entered this information, click 'Pay' at the bottom of the window. After you click 'Pay' your download will start.
Purchase What We Are In Christ - ebook epub file $6.00
Purchase What We Are In Christ - ebook mobi file $6.00